This post may contain links to products that we use and love, and we may earn a commission at no cost to you.
No matter how exciting a camping location may be, there are times where your kids may need something to do.  We tend to especially need camping activities at night,  while I'm cooking dinner. I can't supervise them running all over the campground, and my husband is usually doing other essential chores, like chopping wood. Cue the activities.

I don't like packing a ton of stuff we won't use, and I do prefer that my kids explore and play with whatever is around.  Stickball is a legit sport!  But sometimes we just need something quiet and to keep the kids in one spot, so I pack one very simple activity for every night of our camping trips. We don't always use them, but when I need one, I'm grateful to have them. Here are some of our favorite camping activities for kids that we've used on our trips.
Pet Rocks
A package of googly eyes and a baggie of sequins, along with a few paint pens and a tube of glue, and we're all set for making pet rocks.  Everything needed fit into a quart size ziptop bag, and my kids hunted around the campsite for their own rocks.  And bonus, it gave them a free souvenir to take home from the trip.
Rock Painting
Similar to making pet rocks, except the only required ingredient is paint and brushes.  (And sealant if you want to waterproof them, but we didn't do that.)  I couldn't find the googly eyes and sequins, so I only took a bag of paint and brushes.  My kids were so into it!  They collected rocks earlier in the day, then painted them all evening.  They had so much fun that they did it again the next night. 
Glow Ring Toss
This was an idea I got from Pinterest, and it works so well that I bring it at least once a year now.  The only drawback is that my kids usually go to bed before it's truly dark (during those long days of summer when it's still light at 9:30 pm).  But glow ring toss is still fun and even my husband sometimes plays.
The dollar store is the best place to stock up for this activity, and it only requires 1-2 things: a pack of glow bracelets, and a long glow stick if you can find one.  I usually buy a glow wand and just use the stick part of it because it's longer.  Total cost: $2.  And bonus, when they go to bed, they can take the bracelets with them for a gentle nightlight.
Scavenger Hunt
My kids are kind of hit or miss on this activity.  Sometimes they love it, and sometimes they're "meh" on it.  But it's worth mentioning because when they're into it, they really have fun with it. 
This is the only activity I've done that takes some preparation before we leave.  I scoured Pinterest for age-appropriate scavenger hunt lists (photo lists for my pre-readers and interesting lists for my older kids) and printed several copies of the ones I liked best.  I glued them to standard lunch sacks, and that took a little trial and error to print them at the right size.  But once they were printed and glued, then the project was done and slipped easily into our camping tote without taking any space.  Paper bags are cheap, and chances are good you have something at home already that will work.  So possible cost: free.
Wreck This Journal
I'd never heard of Wreck This Journal, but my daughter wanted one for her birthday.  It was so much fun that we bought one for her brother, too.  But the real magic came on our camping trip a week later.  They both took their journals and…wow…instant camping activity for tweens.  First hint:  it's not a journal.  Not the kind you're thinking, anyway.  Instead of writing thoughts and dreams, every page has a new idea for wrecking the journal.  Literally, destroying it.  Things like "Drag the journal through the dirt" or "Set a page on fire"  (with parent supervision, of course!)  And camping gave them lots of opportunities for destroying their books. 
Wreck This Journal is more about creativity, art, and freedom to be a kid than it is about being destructive.  I promise you'll love these books, and your kids will, too.  There are several options.  The main size comes in several colors, and there's a miniature size, Wreck This Journal Everywhere.  We had one of each, and the kids spent many, many days that entire summer taking their journals for walks, and coming up with unique ways to fulfill each page's challenges.
Reading Aloud
On some trips, if we think of it, we tuck in a book to read aloud.  One summer, we took Laura Ingalls Wilder's Little House in the Big Woods on every trip.  As I cooked over the wood stove or over the fire, I listened to my husband read to our kids, and I felt like a pioneer woman.  I loved it, and the sense of history it lent to our trips.  The only thing I was missing was a long skirt and a bonnet.  Of course, any book will work, so if your kids prefer Diary of a Wimpy Kid, roll with it!
Just plain reading
This one's obvious, but since I've already mentioned destroying books and reading books aloud, it would be silly to not list simply reading.  Two of our kids can read now, and we always suggest they take a book anywhere we go.  My son isn't a fan of reading–yet–but he'll often read in the van if we take away electronics.  My daughter is an avid reader and enjoys chilling by the campfire with a book.  I've taken coloring books and a baggie of crayons for my younger ones, too. 
Games & Cards
I don't like to pack a lot, and I had never thought to pack a game before.  But one of the cabins we stayed in, Timber Butte, had decks of cards available for use.  My husband taught my kids to play Hill and Solitaire, and they played for hours.  Now I carry 2 decks of standard playing cards in our camping tote.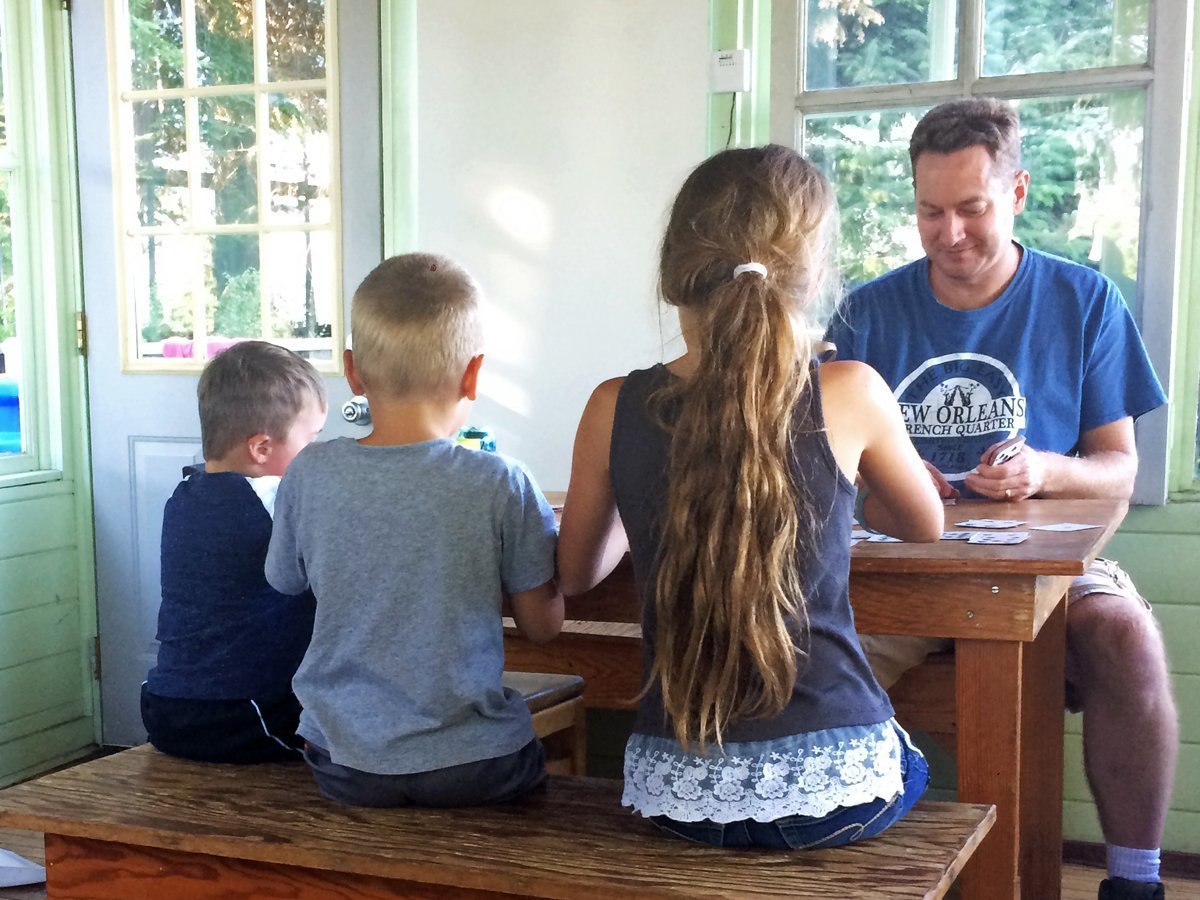 For Christmas, we received a camping game, Toasted or Roasted.  It's sealed in a waterproof, ziplock bag and is designed to be taken on camping trips.  It's for 2-4 players and is rated for ages 6+.  Be the first player to start your campfire and roast marshmallows, but don't get rained out by your opponents!  We look forward to playing it during our camping trips this summer.
Fairy Houses
This one takes nothing except your kids' imaginations.  Use sticks, rocks, moss, cones and whatever else they find to build miniature "fairy houses" at the campsite.  This one is often a multi-day activity for my kids, as they come up with new ideas and build it ever more detailed.  I can't find any great photos of prior fairy houses, but this early one that my daughter built will maybe jumpstart your imagination. 
If you've liked this post, we'd love a Pin!