This post may contain links to products that we use and love, and we may earn a commission at no cost to you.
The Big Obsidian Flow trail sounds innocuous enough: A one-mile interpretive trail climbs up and onto this impressive lava flow of obsidian (black glass) and pumice 1.   We were already in Central Oregon for other hiking adventures, and this sounded like an easy trek with a big payoff.
We were both right and wrong.  If you're considering hiking Big Obsidian Flow with your children (or dogs!), keep reading.  It's possible to safely hike it, and the views are amazing, but hiking the trail carries a big warning, and you'll need some extra preparation.

Newberry National Volcanic Monument
First, a little history about the area.  Big Obsidian Flow is located in the Newberry National Volcanic Monument, which was created in 1990 as part of the Deschutes National Forest outside Bend, Oregon.  The Newberry caldera was a massive volcano that was 25 miles in diameter and 9000 feet tall.  It collapsed about 75,000 years ago, and in the past 10,000 years has erupted 25 times.  The most recent eruption, 1300 years ago, produced the Big Obsidian Flow.
Indigenous groups visited what is now known as Big Obsidian Flow to collect valuable obsidian, used for making tools and weapons. Evidence of habitation have been discovered dating back to 10,000 years ago.  Obsidian was a valuable commodity for Native Americans.  Not only was it vital for their own use, but it was integral for trade.
Newberry is still very active, with cinder cones and a magma pocket relatively near the surface.  For now the volcano is quiet, and 54,000 acres of some of Oregon's most unique and diverse landscapes are set aside for you to enjoy.
Big Obsidian Flow
Big Obsidian Flow covers one square mile inside the Newberry Caldera, and there is now a one mile interpretive trail to the top.  A large parking lot with vault toilets and picnic tables is available at the trail head.  The first thing to know: leave your dog at home!  The trail is literally made with razor sharp glass, and obsidian shards are all around.  Only the first 0.1 mile is paved, and safe and accessible for anyone.  Then a set of sharply studded stair heads steeply upward, and all accessibility ends at the stairs.  If this is all the further you can go, do it anyway!  There is a docent at the steps who is happy to answer questions and talk about the obsidian.  You can still see obsidian up close, and there is a lovely view of the glassy mountain and surrounding wooded mountains.
Big Obsidian Flow trail
If you choose to continue up the stairs, then your adventure is just beginning!  There are several flights of stairs, but nothing a reasonably fit person can't handle.  Our kids did fine, but we held hands to make sure they didn't trip on the stairs.  The stairs are metal with sharp serrated punch-outs for grip.  (Note: these are very painful for dogs…we saw several people struggling up and down the steps with their dogs.)  Once you're past the steps, there's a broad viewpoint area with benches where you can take in the view and rest a bit, if needed.
Otherwise, hit the trail, onward and upward!  The trail from this point is natural, meaning it's basically carved from the obsidian and pumice around and it isn't groomed or flat.  Parts are very rocky.  But the obsidian — oh the obsidian! — makes it worth every turned ankle.  The rocks glisten in the sun, and are warm to the touch.  The black translucency makes you feel like you could fall into it and never hit bottom.  They're like gazing balls, except they're everywhere.
The trail is rated Easy to Moderate by many of our hiking resources.  Personally, my husband and I both disagreed with this.  Yes, it's a short trail.  Yes, it's not terribly steep.  But the rocky, hazardous trail makes tripping or falling almost inevitable, and with sharp glass everywhere you definitely don't want to fall!   I carried our youngest in a hiking carrier, and we held hands pretty much the entire trail with our other little ones.  Even so, two of them came out with bloody knees, and my husband's leg dripped after brushing against an obsidian boulder.  But, more on safety in a moment.
Top of the Trail
We steadily climbed up the trail and marveled at the myriad obsidian around us.  We've hiked obsidian trails before, and we've been to the King of Obsidian: Glass Buttes.  But this was yet a new experience.  Big Obsidian Flow is quite literally a mountain of glass.  It sparkles in the sun, and seems endless when it's all you see in every direction.  We were inspired by the scrawny trees and plants that attempted to live in this harsh and arid environment.
Finally, we reached the top.  The turnaround point of the trail is a flattened veranda of sorts at the peak.  A docent is available to answer questions or take family photos.  Best of all, there's an incredible view that makes every skinned knee worth the time and effort.
Paulina Lake is the larger of two lakes within the Newberry Cauldera.  It is about 250 feet deep at its deepest point, and it sits at 6331 feet elevation.  There are countless recreational opportunities here if you have a couple of days!  Fishing, canoeing, kayaking, and swimming are all allowed.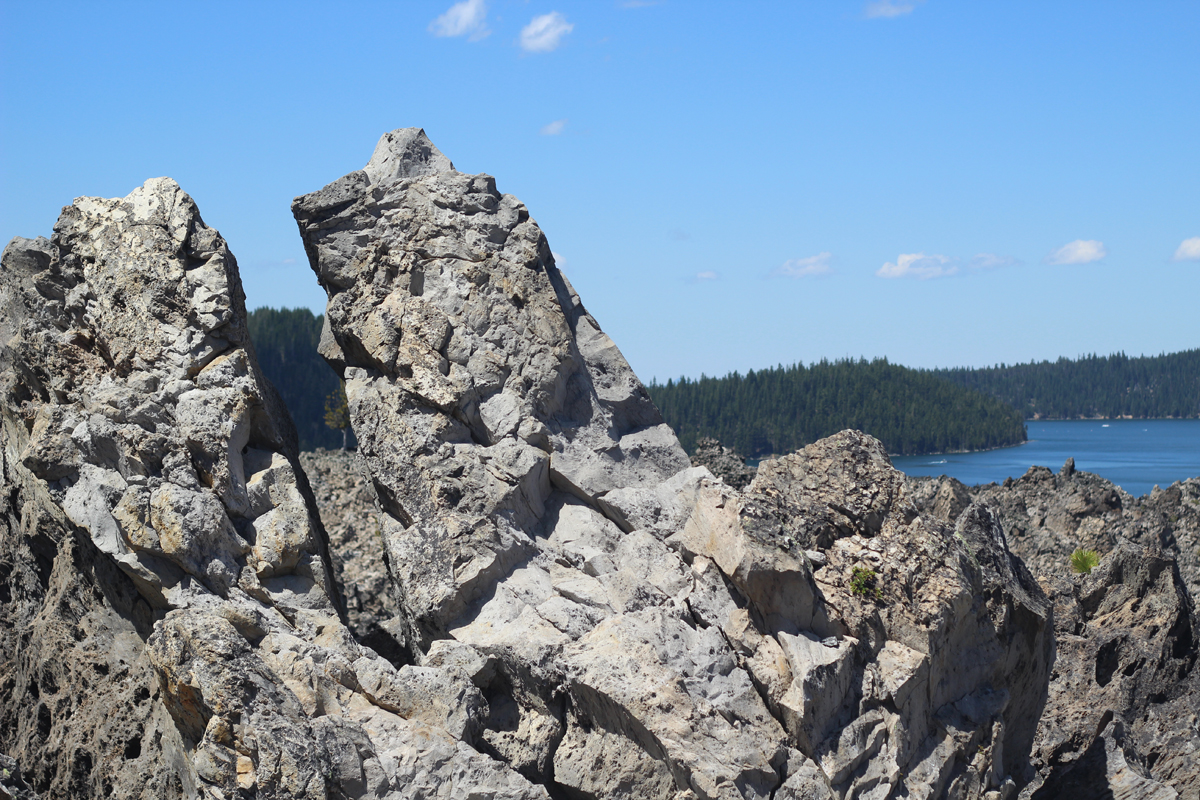 The rest of the trail
We spent some time at the top, and when it became crowded we headed down.  There's a broad loop before you rejoin the original trail.  Along the way, there are a few interpretive signs.  I like to try to read these, but with little ones, it's often not possible.  So I snap a pic and carry on.  Later, in the car, I regale the family with all of the tasty trivia from the signs!  Like this one: did you know they make scalpels out of obsidian?!  It's that sharp!
Safety and other Warnings
First, and foremost, don't take obsidian!  There are signs everywhere.  Yes, there's a ton of obsidian and no one would notice this one little piece. But with tens of thousands of visitors a year, imagine if everyone took a piece?  Thankfully, you can legally collect gorgeous obsidian for free just a couple of hours away at Glass Buttes.  If you're really keen to take some home, save a day in your itinerary!
If you're planning to hike Big Obsidian Flow, here are some basic tips:
Proper shoes – we saw kids wearing flip flops.  I'm sure a hike wasn't in their plans for that day, but if you think you might do this hike, pack close-toed shoes.  Preferably something with a thick sole, like a hiking boot.  My oldest two kids hiked in sneakers and did fine, but our little ones all wore hiking shoes.  The trail is rough, and with much of the trail material being sharp rocks and glass, there is little room for error.
Jeans – we all wore shorts.  But in hindsight, I'd pack jeans for little ones, at least.  Our younger kids (ages 2 – 6) are all competent hikers, but they're also little and often trip and fall during hikes.  All of our injuries were very minor, but I think wearing jeans is a reasonable safety precaution here.
Bandaids – pack some!  If you're hiking with toddlers or anyone unsteady on their feet, you'll probably need them.  Even my husband brushed against a boulder and came away with a nice scrape.
Baby carrier – if you have a toddler, I recommend using a baby carrier and just keeping them off the ground altogether.
Dogs – leave your pups at home.  They officially recommend No Dogs.  Dogs are allowed on the trail, however.  Just be aware that you'll probably end up carrying your pooch.  We saw a guy at the top with an 80-lb Labrador on his shoulders.  We saw several other people carrying much smaller dogs.  There's no where to kennel a dog if you have one with you, and of course we'd never recommend leaving it in the car.  Just plan ahead, and plan accordingly.
Let's Go!
If you go, and I truly hope that you do, here are the details you need to know:
Fees: a Northwest Forest Pass is required.  You can buy one at many places in Oregon, including the Paulina Lake Visitors Center.  A day pass is $5.
Accessibility: many of the locations throughout the Newberry National Volcanic Monument are accessible.  Big Obsidian Trail is only accessible to the base of the stairs, and there is a nice view of the obsidian from there.
Amenities: a vault toilet is located at the trail head.  Picnic tables are available.  Nearby are the Visitor's Center and a restaurant.
Phone service: unreliable.  We have AT&T and we occasionally had one bar of service, but mostly we didn't have any service at all.