This post may contain links to products that we use and love, and we may earn a commission at no cost to you.
As we got more into rock hounding in Oregon, one adventure on our to-do list was fossil collecting in Fossil, Oregon.  Collecting fossils is often a sticky legal situation, but in Fossil, Oregon, it's legal to collect and keep whatever you find.
Oregon's Varied Landscape
We set out on a rainy day in March from our home in the Willamette Valley.  The drive to Fossil is a long one, but we were enamored with all the scenery.  Oregon really does have an amazingly varied landscape.  As we passed out of the valley and into central Oregon, we drove through Douglas fir forests, and then lodgepole pine.  Eventually, the trees give way to vast farmland with mountains and cliffs and wide blue skies.
The Town of Condon
Finally, near dusk, we arrived in Condon, Oregon, where we'd made hotel reservations.  We camp for most of our adventures, because it's fun and it's cheap, but since this was only March, we stayed in a hotel.  There are two in Condon: the Hotel Condon and the Condon Motel.  The motel was cheaper and had good reviews, so we booked a room for two nights.
Condon is a very small town, but completely adorable.  Most of the buildings were built turn-of-the-century and they've survived well in the desert air.  Forgive my driving-down-the-road photos.
I wasn't reviewing our adventures yet, so my photos are not well-planned for a blog!  And I didn't get any photos at all of the motel.  But trust me, it was clean and had the amenities you need most.  We were able to fit 2 pack-n-plays into our room (we had to provide them) and we had a fridge and microwave for preparing meals.  Since all the restaurants close at 6 pm–yes, really–we needed to hit the one grocery store and buy a meal we could nuke.  It worked out fine and we all sacked out, tired from the long drive.
Fossil, Oregon
The next morning we found breakfast at the only cafe in town and then headed to Fossil,Oregon, about 20 miles away.   Fossil is the home of the only legal fossil dig in the state of Oregon.  It's open to the public year round and is located behind the high school.  The school asks for donations so they can keep it maintained for visitors.
Fossil, Oregon, as seen from the high school parking lot.  A very quaint town, with an ancient mercantile still operating.
The Dig Site
The dig site doesn't look like much when you first arrive.  It's across the football field and a sign directs you to a trail around the field.  A shack is at the trail head to collect donations.  There are also loaner tools here, but we brought plenty of our own.  I recommend screwdrivers and a hammer.  We have a rock hammer and that was great.  The rock is soft sedimentary rock and is easy to dig.
Babies on our backs…it's how we roll.
We each located "the perfect spot" and started in digging.  There were fossil shards everywhere.  We read in a travel guide to be patient…eventually you'll find a complete fossil.
View of town from the dig site.  The school is at the bottom of the hill.
Everyone helps!
It wasn't long before one of us found a near-complete fossil.  This fueled our excitement.  This one is an alder leaf.
Before long, another fossil, this one of two nearly-complete alder leaves.
At last!  A complete fossil of a Dawn redwood, or metasequoia, leaf.
For comparison, this is a museum display of the same leaves we found.  Ours are nicer than the museum's!
More things to do in Fossil
Fossil's Fossil Museum.  It wasn't open when we visited.
A window display at the museum showing different types of fossils that can be found behind the high school.
The original courthouse in Fossil.  It's a very neat building and still in use.
A genuine school building that was moved from a ranch and placed in Fossil as an interpretive center.  Again, not open the day we visited, but we could look inside.  Very cool.
All together, we were probably at the dig site for about 2 hours.  After that, the babies were filthy and cold.  At least one of them was eating mud.  The big kids were getting cold and hungry.  We filled a bucket full of rocks to bring home.  Maybe one of them will yield more fossils!  But at the very least, we knew we had one complete fossil and a couple of cool partials, so we headed to the mercantile for snacks and bathroom, then back to Condon for the night.
Painted Hills
There are a lot of really neat places within an hour or so of Condon and we hoped to visit at least a couple.  The John Day Fossil Beds (not collectible) are nearby, as is the Thomas Condon Paleontology Center.  I really wanted to visit the Kam Wah Chung State Heritage Site, a preserved and restored Chinese pharmacy, but it wasn't open during our trip.  We chose to swing through the Painted Hills on our way home.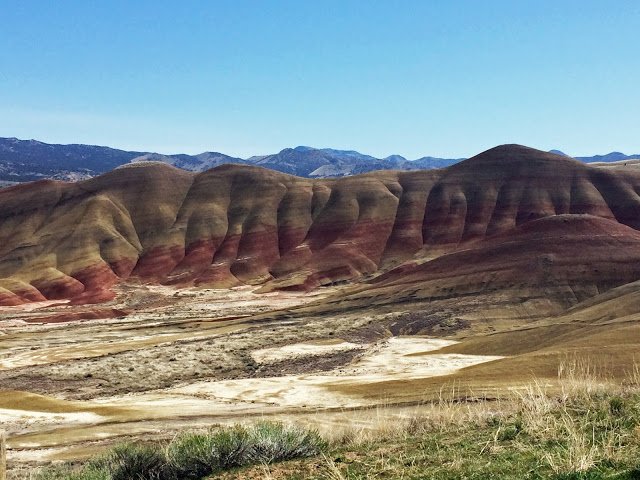 Untouched photo…this really doesn't even do it justice.  The colors are incredible.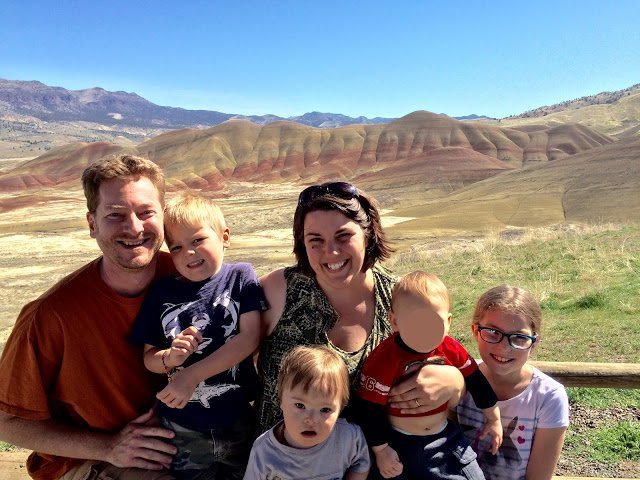 Rules require we blur out our foster baby's face.  But we all had a great visit and we're thankful to the sweet elderly lady who admonished her son to "take that nice family's picture!"
Cost: $15 per family, or $5 a person, donation to the school
Nearby amenities: mercantile just down the hill with modern bathroom, cold drinks, and snacks