This post may contain links to products that we use and love, and we may earn a commission at no cost to you.
It all started with Aspen Cabin.
We loved camping, but we had a newborn.  I needed something more than a tent and I'd heard that the Forest Service sometimes rented historic cabins.  We also had a crazy idea to take our 3 kids (including our newborn) into the desert to hunt for Oregon sunstones.  Less than an hour from the sunstones was Aspen Cabin.  We rented it, and thus started a journey that led to many more adventures and this blog.
Our family of five stayed two nights in Aspen Cabin, a Forest Service fire guard station built in the 1930s.  It's now a rentable cabin via Recreation.gov.  We rented it for its proximity to Oregon Sunstones, which was the focus of our adventure.
Aspen Cabin
When we arrived, the corral around the cabin was full of cows.  A loud "hi-ya!" chased them out.
We'd never stayed in a Forest Service cabin before, so we didn't have any expectations.  We found the cabin to be very rustic (i.e. Dirty.  Really dirty.)  I made good use of the provided broom, though, and soon had it in reasonable order.
The cabin has a lot of cabinets, although I don't recommend using them: they aren't mouse proof.  They were, however, on our trip, stocked with some basic necessities, like matches and dish soap.
The cabin has a wood-burning stove.  During our visit, there were a few wood rounds and some newspaper.  Temperatures dropped to the 40s overnight, so the stove kept us warm.  There was also a total fire ban on campfires, so we couldn't use the fire ring outside.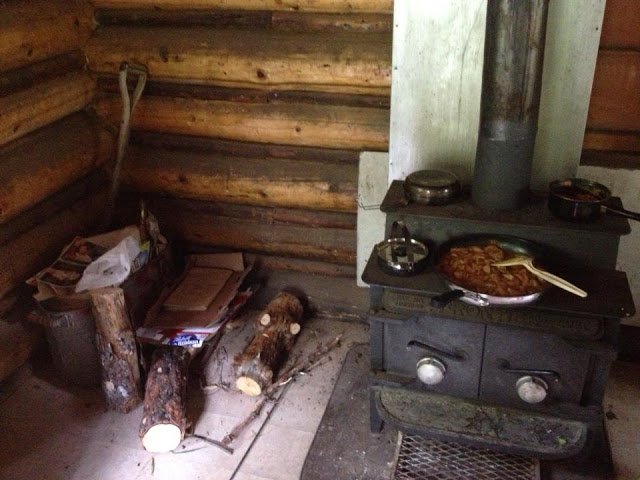 The stove became our only way to cook meals.  I didn't mind, as it was much easier to cook on than an open fire.
Aspen Cabin is stocked with 4 army cots with thin mattresses.  They were serviceable and we slept well.  There was just enough space to set up all 4 cots between the wall and the indoor picnic table.
Pack in, Pack out
Aspen Cabin has no amenities, including water, so pack well and be prepared.  There is a campground with a water pump just a mile or so down the road, it was easy to fill up daily there.  There's an outhouse out back, but the Forest Service doesn't provide toilet paper, so take your own!  There's also no trash service, so take garbage bags and be prepared to pack it back to Lakeview.  We ended up throwing ours away in a roadside rest stop outside Lakeview.
Things to Do Nearby
As remote as it is, Aspen Cabin does have some things to do nearby.  Our family drove up to the
Drake Peak Lookout
(also
rentable
) just for a look around.  It was easy to spend an hour exploring the ridge top and peeking in the windows of the lookout.  We found a nice geocache there, if you're into
geocaching
.  We also flew a kite up here, as the wind was crazy!
The lookout is very small, with almost no privacy from visitors, so we were glad we'd stayed at Aspen Cabin instead.  However, if you're one or two people and want a lookout, Drake Peak has limitless views in every direction.
And of course, one of the most popular nearby attractions is collecting Oregon sunstones.
Cost per night: $40 via recreation.gov
Amenities: pit toilet, fire ring, picnic table, fire wood, stove, cots
Cell Service: none
Our kids ages at the time of visit: 8, 3, and 4 months