This post may contain links to products that we use and love, and we may earn a commission at no cost to you.
During a recent camping trip to Puma Campground, we took a short day hike to Slick Creek Cave.  It's a small cave near the junction of Fall Creek and Slick Creek that is believed to have been used by Native Americans.
There are several ways to reach Slick Creek Cave, but the only route I've ever taken is the one described here.  It's a safe route, even for fairly young hikers, and it's mostly level.  There's a little poison oak near the cave, so be alert for that, no matter which direction you approach from.
We parked in the Bedrock Day Use area near Bedrock Campground.  We passed through the campground to site #7 to the trailhead.  The first part of the trail is pretty overgrown, obviously we didn't choose the most popular route!  But we could see where we needed to go, so it was fine.
Soon we emerged from the shade into a burned over part of the forest from a 2003 fire.  This section of the trail is neat, partly for the post-fire terrain, but also for stunning views of Fall Creek.  There were abundant wildflowers in purple, yellow, and white.
After maybe 1/2 mile (I didn't keep track, but it wasn't a long hike), we came to a bridge and a sign designating the area as the Slick Creek Cave Interpretive Site.  We'd arrived at the cave, but first we checked out the bridge.  The bridge is over Slick Creek, right before it joins Fall Creek.  It's steep, and from prior hikes down to the creek, I can tell you that it IS slick on the bare bedrock.
A short walk from the marker are signs explaining the history of the area and the possible history of the cave.
From here, there's a steep wooden staircase up to the cave.  The cave isn't very deep and it's safe for kids, as long as you make sure they don't venture too close to the steep slope nearby.
The upper walls of the cave show black, possibly from decades of fires from Native Americans.
A pano which fails to truly show the beauty and scope of the cave.
We spent 30 minutes or so at the cave, then hiked back along Fall Creek.  All together, our hike took about 2 hours and we hiked at a leisurely pace.  The trail was very safe for our 6 year old and 11 year old, but parts of it had steep drop-offs and so would not be safe for younger children.  We carried our 3 year old in a frame pack, and of course our 5 month old rode in style!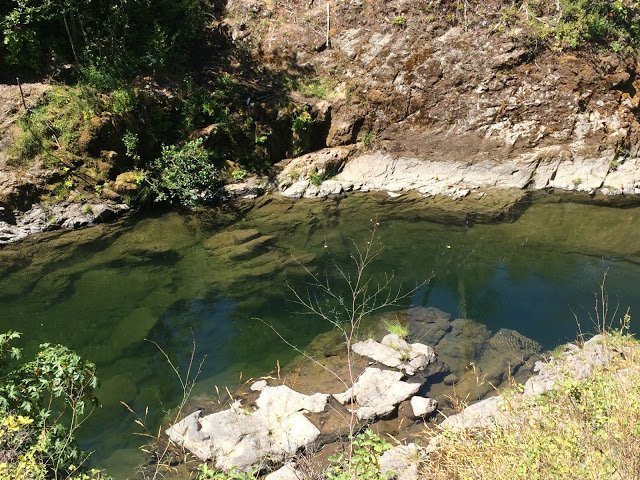 Cost: free
Amenities: pit toilets at the parking lot, water in the campground
Our kids ages at the time of visit: 11, 6, and 3, and 5 months
Gear needed: good quality, comfortable baby carrier; water