This post may contain links to products that we use and love, and we may earn a commission at no cost to you.
We wanted an adventure close to Eugene, so we booked two nights in the Forest Service's Box Canyon Guard Station on the Auferheide Memorial Drive.  The photos online looked nice, but otherwise we didn't know what to expect.  Happily, the cabin exceeded every expectation.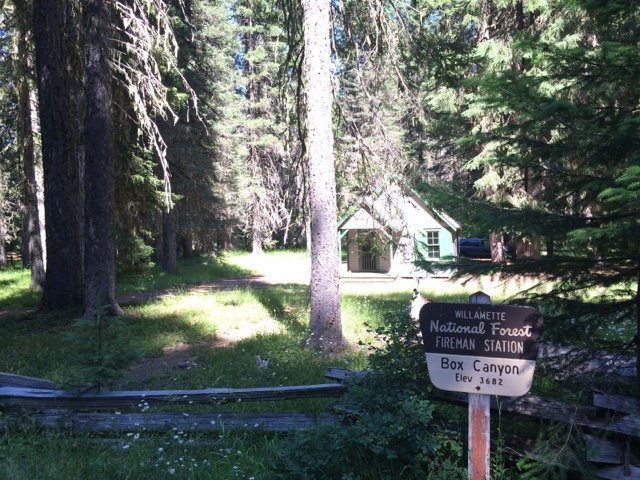 Travel to Box Canyon
We prefer mid-week stays so we chose Tuesday through Thursday.  We left Springfield, Oregon, and headed up Highway 58 toward Westfir.  Turning left at Westfir, we stopped for a quick break and a look at the Office Covered Bridge (Oregon's longest covered bridge currently standing).
After a brief stop, we headed up the beautiful, winding (very winding) road Forest Road 19, also known as the Auferheide Drive.  Our son (age 5) in the backseat was almost immediately feeling ill, a first for him.  We slowly wound up the mountain until we reached Kiahanie Campground, about 20 miles from Westfir.  Here we expected to fill our 7-gallon container with water, as we knew there would be no water at the cabin.  However, a sign informed us that there was no water available.  We stopped and asked a camper and she verified the lack of water.  We pondered our options, and chose the safe option of driving all the way back to Westfir.  There's a hose with potable water outside the restroom at Office Covered Bridge Park.  We filled up and headed back up the mountain.
Box Canyon Guard Station
We finally arrived at the Box Canyon Guard Station and had no trouble locating the key and opening up the cabin.  Almost immediately we had visitors.  And then more visitors.  Apparently a lot of people like to stop and look at the cabin, use the outhouse, and picnic at the fire pit.  However, we'd rented the cabin and it was our private sanctuary, so we rolled a few wood rounds to block off the entrance off the highway.  I think a sign announcing that the cabin was rented (or at least, rentable) would have helped.  But the cabin was very clean and bright.  We were delighted with its quaint stove and knotty pine walls.
Room 1 – dining table, food prep area, stove
The other side of Room 1 – futon
Room 2 – two twin beds, small closet
Amenities at the cabin
The cabin features two twin beds (with real mattresses!) and a futon couch that pulls out into a queen bed.  There's a table that would seat four, although only two chairs were provided.  There's a smaller table that can be used for food prep, plus some shelves.  No sink.  The Forest Service does offer trash service at this cabin, which is nice since most Forest Service cabins are pack in-pack out.  There's a small wood stove inside.  Outside, in a lean-to, was quite a bit of wood available for us to use.  A lot of wood was stacked at the fire pit, too.  Whether this was from the Forest Service or a previous guest, I'm not sure, but we appreciated having it provided.
Also outside is a picnic table that seats eight, the fire ring, and a pit toilet.  There's a horse corral, but on our visit the door's hinges had rotted away and the corral was not usable.
Things to do nearby
After settling in, we explored the area.  Directly across the highway is a memorial plaque for Robert Auferheide.  This is also the start of the Grasshopper Trail.  Just a few feet in, the trail merges with the Box Canyon Horse Camp, which has campsites and corrals for horses.  There's a watering trough but the water isn't potable for humans.  Finding the trail again, we followed it less than 0.5 mile down to the creek.  If you keep to the trail, the path is easy.  If you miss it, as we did, then your path to the creek is steep and difficult!  We went back and found the trail so we could splash in the creek a little.
The next day, we explored the area more fully.  We drove up to Skookum Creek Campground, hoping to find water access (it was over 100 degrees in the valley, and plenty warm up the mountain, too).  We were thrilled to see quite a few grouse and 2 baby deer on the way up.  Arriving in the parking lot, we were less thrilled to see a flat tire.  While my husband changed the tire, the kids and I went down to the creek.  I used an Ergo to carry our 2-year-old, while the bigger kids splashed in the icy cold water.  We all got eaten alive by mosquitoes.  As soon as the tire was changed, we left to find water somewhere less buggy.  On the way down the mountain, we saw the baby deer again along with their mother, a few more grouse, and…a baby bear!!!  We didn't see the mother and, for safety, we didn't stop for any photos.
Landis Cabin
Back on FR 19, we headed down the other side of the mountain, past our cabin.  We explored the Landis Cabin, which is a replica of the original guard station.  It's available for anyone to visit and is a short walk from the road.
There are also abundant creeks in the area.  It was a record-breaking heat wave during our visit, and temps were well over 100 degrees.  We finally pulled off the road near Chucksney Creek and let the kids play.  It was icy cold, but we were so hot that we didn't care.  There was a hiking trail nearby, so we walked 1/4 mile or so on it, admiring the old growth Douglas fir trees.
Lots of Visitors
Arriving back at our cabin, we discovered it had been taken over by bicyclists!  Not really, but they were using the pit toilet and the picnic table, which was set up with our things (the few items we were willing to leave out).  They hadn't touched a thing and we chatted for a few minutes.  They were part of a tour group riding from Bend to Westfir to Blue River and back to Bend.  Wow!
On our third day, we wanted to explore more, but we were driving on a donut tire, so we headed home to Springfield to have our tire replaced.  We'll always have fond memories of the Box Canyon Guard Station.
A couple of motorcyclists stopped just as we were leaving.  We gave them a tour of the cabin and they snapped a family pic for us.
Cost per night: $70 via recreation.gov
Amenities: pit toilet, fire ring, picnic table, fire wood, stove, beds (NO water!!)
Our kids ages at the time of visit: 10, 5, and 2 years