This post may contain links to products that we use and love, and we may earn a commission at no cost to you.
Horse Rock Ridge trail has called to me for years.  Recently, I cleaned my desk and found an old newspaper.  It's dated July 2011, so I've saved it for a while.  The feature article was by William Sullivan, one of Oregon's premier outdoor writers.  The article was about a nearby hiking trail at Horse Rock Ridge.  It fascinated me at the time, and I wanted to go.
Fast forward 5 years and a couple more kids.  I reread the article and was again fascinated.  I still wanted to go.  And so, on an unseasonably warm Sunday in April, we went.
We took our newspaper as a "map" and, along with our America the Beautiful pass, headed to Shotgun Creek out of Marcola.
Shotgun Creek
We headed through Marcola, Oregon, to Shotgun Creek, a Bureau of Land Management (BLM) park.  Our America the Beautiful pass* got us into the park where we sat in the grass for our first picnic of the year.  If you're interested and have time, there's a playground, a creek that's great for summer swimming, sand volleyball, and more.  Afterward, we headed up the road for about 7 miles to the trailhead.  The road is paved the entire way.  No pass is required for the trailhead; access is free.
Starting out from the parking lot at the trail head.
Horse Rock Ridge Trail Head
Vehicle access is prohibited beyond the parking area.  A boulder dam and a baffled fence keep vehicles out.  Dozens of small trees that have fallen across keep anyone but hikers off the trail.
Leave your stroller at home, this is a hike best for a baby carrier!
The first mile is on an old logging road through timber.  We saw lots of wildflowers, most of which I can't identify.  Purple, white, and yellow were all scattered throughout the ground vegetation.  It's steadily uphill, but easy hiking.
No idea what this lovely fellow is…a type of orchid perhaps?
At last, we came to an opening and the first meadow spread out before us.  The day was in the low 80s and once we left the trees, there was little shade.  If you're hiking in warm weather, use sunscreen and bring plenty of water.  It's very exposed and HOT.
Leaving the shade of the forest.
We let our little one down to roam a bit.  There are some steep drop-offs, so keep them close, but it's generally pretty safe for kids.
The meadows of Horse Rock Ridge spread out for a mile, ups and downs marked by rocky ridge tops.  Expect some steep and sometimes treacherous portions of trail.
From mid-April to July, wildflowers abound.  Purple, white, and yellow lay out a carpet as far as you can see.
The article cautioned against poison oak on the south-facing slopes.  We didn't see any, but that doesn't mean it's not there.  I get it pretty badly, so I kept my distance.
The Three Sisters mountains in the distance.
Top of the Ridge
We climbed several of the ridge's high points, each one giving us better views.  Several white-capped mountains are visible.  I would categorize this part of the hike as moderate…there were some steep portions that had me (a middle-aged, out of shape mom of 5) breathing pretty hard.  My husband was carrying our 30-lb 3-year-old in a Deuter frame pack on his back and he did just fine.
On the third and highest "peak", about 1.6 miles from the trail head, there's a small cave.  We hiked to the cave, took a few photos, and called it a day.
Click on photo to get a full-size version.
Geocaching
If you're into geocaching, save some cache data before you leave town (although you may very well have cell access on the high points; we did with AT&T service.)  We saved a few caches and made a score…the cache we logged hadn't been found in almost 2 years, so it was a special treat to scrawl our name, the Fishie Five, on the log.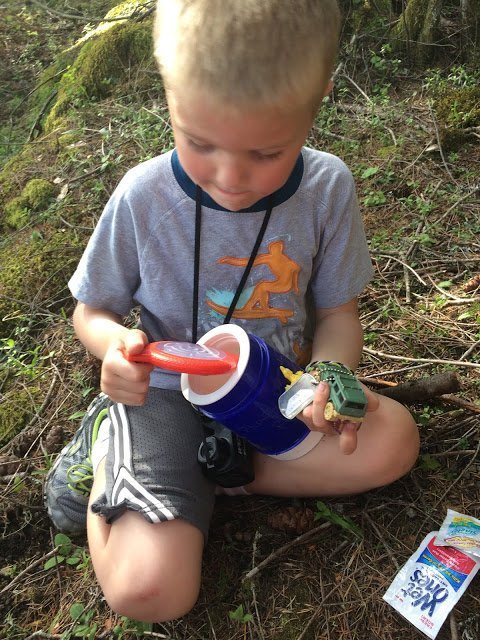 Picked up a Jeep travel bug that had been stuck on the mountain for 2 years!  Don't worry, we log them properly and move them along.
We headed back down to our van, relieved for the shade and the downhill trek.  Altogether, start to finish from the trail head, we were gone for about 3 hours.  We took several breaks, played a bit, climbed and explored, and let our little guy down for some exercise of his own.  It was an enjoyable hike and the meadows were beautiful all on their own.  The views were spectacular.
Cost: free
Amenities: none at the parking area, but bathrooms and water are available at Shotgun Creek
Our kids ages at the time of visit: 10, 5, and 3 year
*If you or your child has a lifelong disability, you may qualify to receive a free America the Beautiful Pass.